After going around a few gaming sites, I found myself looking through some of the pictures of conventions and there's one thing that will always piss me right the fuck off.
Sonic the Hedgehog cosplay.
Don't call me a hater, I like Sonic. From most of the 2D games, to SA2B, and tried Unleashed and thought it was kinda cool. Also gotta love those Archie Comics. I dare BioWare to come up with a plot like that and NOT make it an RPG. So I can see why there are hard core faggot fanboys about it. However, no matter how cool or good Sonic gets, THERE WILL NEVER BE A NEED FOR YOU TO GO AND COSPLAY AS HIM OR ANY OF HIS OTHER FURRY FRIENDS. Not even Mogul, who is my favorite character. There are things to consider when one cosplay's. Anatomy of the character, YOUR anatomy, the type of clothing, and mother fucking time (an aspect that not even that gay ass Dialga shitter can help you). Let's look at Sonic's anatomy.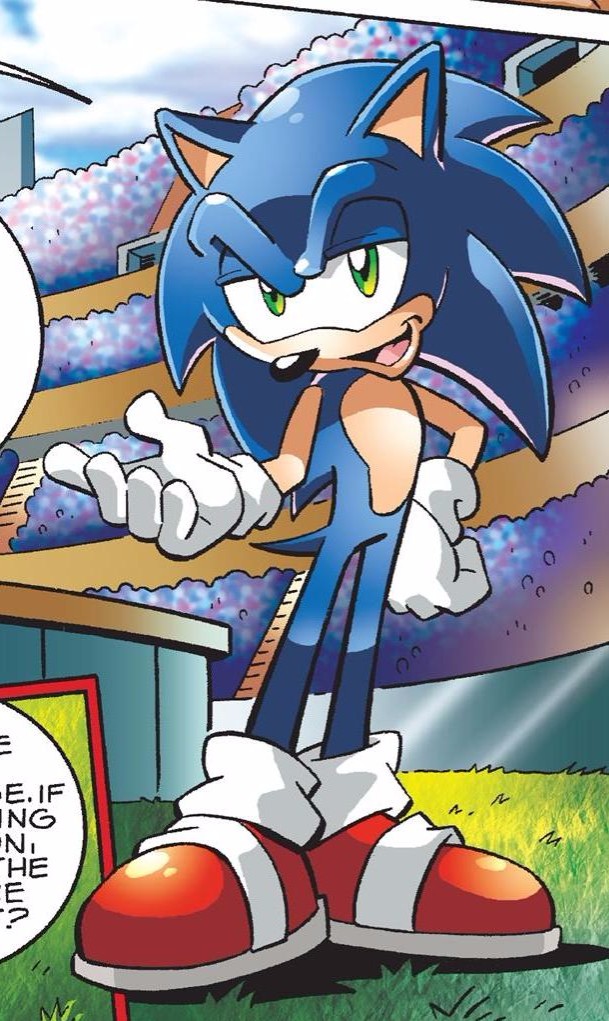 Props to Tracy Yardley for being one of the most constant, and better than average, pencilers at Archie.
Now look him. 2 1/2 to 3 heads high, which makes him about, I dunno, 3 feet in height? If you just make a "school mascot" cosplay for this, you will look like the most retarded
person
THING within a 10 million light year radius. His hands anatomy wise are more of a style thing or order to make him look decent. This means that you will never achieve looking like him.
For your anatomy, see above.
For clothing, pfft. He's got gloves and shoes. Fuck, who doesn't have gloves in the series? Exempt the comics from this one though. About 60% of other characters, INCLUDING SOME BACK GROUND FAGS, have more clothes than Sonic. Some people however have come up with an idea to either trump the clothing part, to all of the above. It was my first time at AN. Walking around the dealers corner, amazed by all the shit I saw, until THEY walked past me. Who was it? 2 girls (?), one dress in red, the other in blue. I didn't mind it, I saw weirder shit that day, at least I thought. I read the back of their basket ball jersey's... "01 Blue Blur" "03 Rad Red". I quickly reexamined them. They had styled their hair like the two, wore their gloves and "shoes". Once I saw their face, they colored their noses black, me and my brother quickly span 180 degree and walked away.
Hey, I'm all for innovation, but even when you do this:
It's no Good. It is an interesting concept, dressing your self up and a more human Sonic. However interesting does not always mean it's a good idea. Though every time I look at this, I seem to rage the most at the "Tails", and the least at "Amy". But fuck guys, the best someone could do to make a good Robotnik.
...
Ok that's a bad idea too.
Also got Sonic the Hedgehog 4. FUCK SEGA STOP MAKING CASINO ZONES. THEY ARE BAD IDEAS AND BAD IDEAS ARE BAD.
Edit: FUCK I JUST REALIZED THAT THE WHITE HAIRED TURD IN THE BACK IS TRYING TO BE SILVER. HE DIES FIRST.